West Highland Terriers are the Fun Sized Candy of the dog world. They have a very specific look to them; short, stubby legs, a round face and short snout, and two small, upright ears.
One of their most defining features is their shaggy white coat. You've probably seen color variety among other dog breeds, which may make you ask – can a Westie come in a color other than white, like black or brown?
White Terriers
Well, simply put, no. The full name of the breed is West Highland White Terrier, not West Highland Black Terrier or West Highland Purple Terrier.
The American Kennel Club describes a standard Westie coat as "two inches long, white in color, hard, with plenty of soft undercoat." If your dog does not meet similar standards, you may consider probiotics and other supplements to keep them (and their coat) in the best health possible.
So, when you see a black or brown terrier, don't mistake them for a Westie. Instead, they're probably a Scottie dog (black) or a Cairn terrier (brown).
But that doesn't mean they're not related. You may think Westies, Scotties and Cairn terriers look alike, and you'd be correct; they have similar builds and hair type, even if they aren't the same color.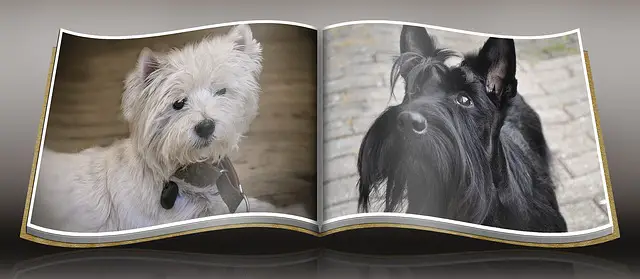 History
It's highly likely that all of these terriers (plus Skye and Dandie Dinmont terriers) trace their roots back to a common ancestor in Scotland, somewhere around the 1700s. Early terriers were known as Poltalloch or Roseneath Terriers.
These early terriers are considered to be the forefathers of most modern terriers. They were bred as ratters, to protect the grain storage that everyone in early Scotland and England needed to survive.
Roseneath Terrier puppies allegedly came in many different colors; a single litter could have dark and light puppies. These puppies were later bred and cross-bread to create color-specific breeds, like black Scotties and brown Cairns.
According to legend, Colonel Malcolm of Poltalloch was the first to breed white terriers. He chose the lightest puppies out of litters of Cairn terriers, eventually creating the white terrier.
West Highland White Terriers made their first dog show debut in Scotland in 1896. They'd later come to British dog shows in 1906, and were recognized by the American Kennel Club shortly after.
Wheaten Dogs
Have you ever seen a color called 'wheaten'? Wheaten is an off-white color, somewhere between white and tan.
The American Kennel Club accepts Scottie dogs in three varieties of color; brindle, black or wheaten. Though unusual, it's very possible for a Scottie dog with a wheaten coat to be confused for a white terrier.
When this happens, pay attention to the cut and the shape of the face. Behavior plays a big role as well – these dogs may be cousins, but they act much differently from each other.
Scottie dogs have long faces, which can appear longer depending on the cut job. Their ears are like arrowheads; long and sharp.
Westies have more rounded faces, and their ears are much shorter and curved. Their general appearance can be described as "stocky".
Behavior-wise, the two are almost opposites: Westies do well with other dogs, as long as they're in an active household. Scotties are good family dogs, but will sometimes pick fights among its fellow canines.
Lots of obedience training is needed for both breeds, beginning as young as possible. Combine training with lots of love and exercise, and either breed will make a fantastic pet.
Exceptions
Not all Westies are show quality. The American Kennel Club has a strict official standard and many individuals fall short of it.
Even a purebred Westie can come out looking slightly darker than it should. (Again: wheaten.)
In the case of cross-breeding with non-Westies, the puppies will almost definitely be off-white. Still, it's almost impossible for a purebred West Highland White Terrier to be anything but its namesake: white.
Conclusion
So, can a Westie come in black? Nope – a black terrier will always be a Scottie dog, and a brown terrier is probably a Cairn.
Most modern terriers share a common ancestor, the Roseneath, which probably did come in many varieties of color. These different-colored dogs were later bred in Scotland and England to have the features we know today.
It is possible for a Scottie dog to appear white (wheaten), but the shape of its face and its personality make it distinguishable from a Westie. Don't be tricked by the cut job – a Westie can't be black.
Regardless of build or breed standard, white or wheaten fur, west highland white terriers can make the greatest companions. Thanks for reading, and don't forget to leave a comment down below with any thoughts or questions!