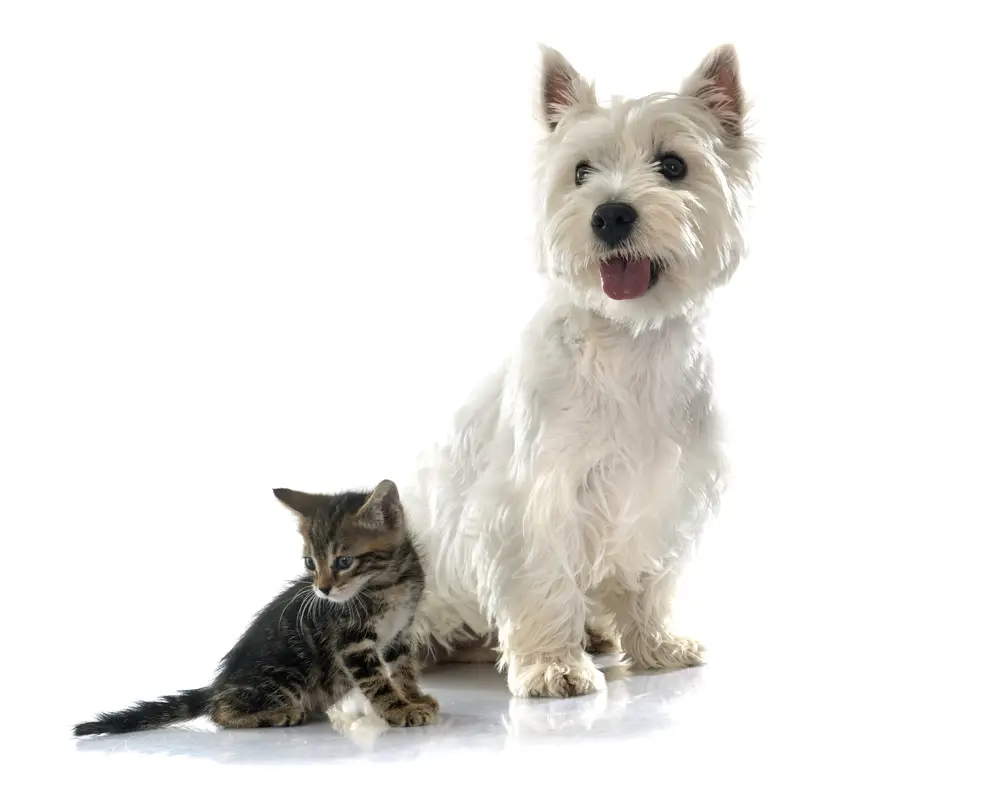 Have you been planning to adopt a Westie or perhaps add a cat to your family? If so, you must have been wanting to know the answer to the question, 'Do Westies get along with cats?'
Well, your search ends today. In this post, we will discuss in-depth about whether this adorable canine companion gets along with felines living in the same household and what you need to know before adding a Westie to your family.
Do Westies and Cats Get Along?
A straightforward answer is, it depends. Allow us to elaborate. Westies are generally more tolerant to cats than other terrier breeds.
But because it was originally bred to chase prey, they have a tendency to chase animals that are smaller than them in size. A Westie can get along with cats if:
They were both raised together while still young.
The cat is familiar with dogs and vice versa.
It also helps if the dog was trained to be around other pets or respond to commands. Most people agree that a full month of training the dog usually makes him adapt to their feline co-inhabitants.
If you plan to introduce Westie to a cat, then that might be a challenge. It can be worse of the cat is not familiar with other pets and is flighty.
However, if you would love to have a Westie in a home with a cat or adopting a cat when you already have a Westie, then it is possible. We have provided you with a guide containing practical tips on how to introduce the pets to each other.
How to Introduce a Westie to a Cat
If you plan to have more than one species of pets at home, chances are you are an animal lover. So, you probably know a lot about pets than an average person. But Westies are stubborn and is a proud dog. He can be quite assertive, so you need to supervise the pets at all times, especially during the initial days.
Here are some safe and practical tips on how you can introduce a Westie to a cat. Before you make the introduction, keep the following point in mind.
Take the utmost care when you bring home a Westie puppy when you already have an adult cat at home. The mature feline can seriously injure the puppy.
Along the same lines, if you plan to adopt a kitten, care and supervision are crucial, especially if you have a full-grown Westie.
Make sure that your Westie has undergone crate training. It will allow the dog to get familiar with the cat from a safe distance.
Use a leash on the Westie within the first couple of weeks.
Keep the Westie away from the cat's food and the litter box. Westies have a tendency to eat the food as well as the fecal matter while the cat will use some other place as a litter box.
If you have more than one dog at home, think twice about bringing home a cat. Dogs have a pack mentality so they can gang up on the smaller pets.
Steps to Make the Introduction
Be calm – If you are agitated or nervous, your pets will pick up your energy.
Keep treats ready – You need to reward the dog as well as the cat if they both behaved properly.
Be alert – You need to be ready to divert the dog's attention if it gets too excited. You can use treats and toys as diversion tactics.
Use shake can technique – It is commonly used to modify behavioral changes in pets, especially dogs.
Use praise words – It is so much easier to resort to chastising the dog for bad behavior but using praise words will encourage him to continue the good behavior.
Exercise the dog – Westies are working dogs originally so make sure they get a lot of exercise. This will also reduce his desire to chase the cat for fun.
Want to know more about this topic? You will find a lot of helpful information here.
Additional Information to Consider
Keep in mind that if your Westie is outside and unleashed, no amount of training can prove beneficial. If there is a cat running around, his chasing instincts can go into overdrive, and he will chase the cat. Westies are known to chase their housemates occasionally.
It is also worth mentioning that you are dealing with two species of animals in this scenario. If your pets don't get along, in spite of your efforts and the canine training, perhaps it is time to evaluate if it is the cat that is refusing to adapt to the dog.
Westies are quite intelligent, and they respond well to training. So if your pets seem to be hell-bent of scratching and biting each other, maybe it is time to consider alternative arrangements for the well being of the pets and your sanity.
If you just cannot live without your cat as well as the dog, possible alternatives that work are:
Keep your cat behind a metal baby gate. It should be screwed into the walls for support and high enough so that the dog cannot get inside it.
Have a designated 'cat room.' Dr. Gary Landsberg, a leading animal behaviorist from Canada, suggests filling the room with food, toys, bedding and litter box until the cat is no longer fidgety and fearful.
Refrain from keeping the dog in the crate while the kitten roams around freely. It not only builds up the frustration in the dog but is just plain emotional torture.
If all else fails, you might need to resort to permanent separation of the pets.
Final Thoughts
Although it is not easy in the beginning, Westies can live with house cats with proper training and supervision. In fact, adults cats acting like the alpha in the same household as a Westie is not uncommon.
These adorable breed of dogs are assertive, extremely playful and have a strong drive for running. But they are among the best companions that humans and cats can have in a dog.