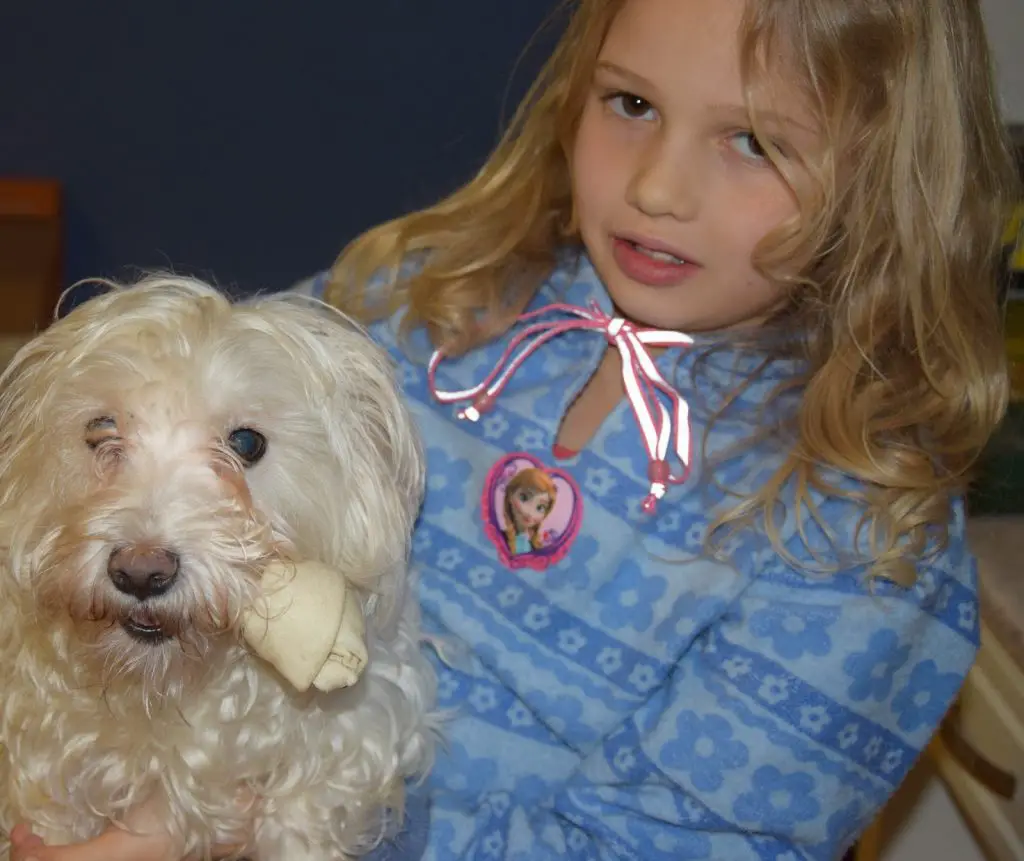 Who can resist those dark button eyes full of personality set against soft white fur reminiscent of your favorite teddy bear? Commonly referred to as the Wee-Chon, these adorable little pups are the result of crossing a purebred Bichon Frise with a West Highland White Terrier.
All it takes is a single inquiring look and you melt. Before you get too lost in those eyes, you should take some time to get to know the Westie Bichon Frise mix breed so you can ensure it is the right match for you.
Designer Dog Basics
Designer breeds are also called hybrids. Contrary to popular belief, designer dogs do not have to be an exact 50/50 split between the two breeds that make up the mix. In the case of a perfect 50/50 split, the resulting dogs would be categorized as an F1 or first generation.
As long as the dogs remain only mixed with the two purebred breeds, regardless of the percentages, they are considered acceptable designer breeds. Here is the rundown of the categories:
F1 – First Generation: bred from two purebred dogs, one of each breed (50/50)
F1B – Backcross: A first generation female mated to a male purebred of either breed (25/75)
F2 – Second Generation: bred from a first generation male and first generation female (50/50)
F2B – Second Generation Backcross: First generation bred to a first generation backcross (75/25)
F3 – Third Generation: Two second generation dogs bred together (50/50)
Multi-generational – Two F3 or higher generations bred together
These categories are helpful to know before you go to pick out that pup you have been eyeballing. This is because if you prefer one breed's tendencies and temperament over the other, you can choose an offspring that has a higher percentage of that preferred breed.
Breed Origins
The West Highland White Terrier
The West Highland White Terrier, along with other Scottish terriers, were bred to be very good hunters of foxes, rats, and badgers. Originally, the Westie was considered one variety of a single breed that included Skye, Cairn, and Scottish terriers as well. Over time, the breed would be split as selective breeding was used to create distinctions between the varieties.
In 1907, the West Highland White Terrier was considered an official breed through the diligence of Colonel Edward Donald Malcolm, who bred these short-legged white terriers to be easily seen during a hunt.
In 1908, the Westie was officially registered with the American Kennel Club as a breed called Roseneath Terrier. In 1909, the name was changed to West Highland White Terrier. The Westie has gained popularity as a house dog and competitive show dog ever since.
The Bichon Frise
The Bichon Frisé is a descendant of the Barbet Water Spaniel which is where the Bichon's original name, Barbichon cam, came from. Later, it would be shortened to Bichon.
The Bichon group would eventually be divided into four breeds: Ilvanese, Bolognese, Maltaise, and Tenerife which is thought to be the original source of the Bichon we know today.
Bred on the Canary Island of Tenerife, Spanish seamen used them as items for bartering. In the 1300s, Italian sailors rediscovered the little dogs and that's how the Bichon made their way back to Europe where they became very popular among the nobility.
During the Renaissance France also took a liking to this breed. However, over time, their popularity dwindled. The Bichon had a short period of popularity during the rule of Napoleon III in the 1800s but once that died down, the poor Bichon was demoted to "street dog."
After World War I, the Bichon breed was in a bad place but a few individuals fell in love with the breed and brought it back through breeding programs. In 1933, a standard for the breed was implemented and the breed was given its current name, Bichon Frisé.
The Bichon made its way to the United States in the late 50s. where it captured the hearts of dog fanciers nationwide. In 1971, The American Kennel Club officially recognized the breed.
The Wee-Chon
The Wee-Chon's origin is a bit murky. However, it is generally agreed upon that the breed was first created in the United States. The Westie and the Bichon were chosen to cross because of their family-friendly demeanor, resilience, and sociability.
General Appearance of the Westie Bichon Frise Mix
Since the Bichon and the Westie are comparable in size, a Wee-Chon will typically emulate similar characteristics.
Height: 9-12 inches
Weight: anywhere between 9 and 15 pounds
Life Expectancy: 11 to 14 years
Color: Usually white but can have some black in its coat. Eyes and noses are dark.
Coat: Extremely soft, fairly dense, and medium to long in length. The coat can be either straight or wavy.
Shedding: This will depend on which breed your hybrid favors. Westies have an undercoat and do shed. Bichons are hypoallergenic and will not shed.
Wee-Chon Disposition
If your ideal dog is an affectionate, merry companion the Wee-Chon will fit that role marvelously. This hybrid is an extremely charming, loving, and good-natured teddy bear. These pups are affectionate and love to cuddle and play.
They do well in families with children because they are energetic and ready to play but will also enjoy a good snuggle afterward. Their small size and gentle nature also make them good companions for the elderly.
The Wee-Chon do not fall short in the intelligence department and are always looking to please their owners. This breed is always ready to show their human family members affection and will also get along great with other small dogs and pets. They are eternally cheerful but can get aggressive around larger dogs.
Health Concerns of the Wee-Chon Mixed Breed
A common concern with dogs that have light skin and hair are conditions like sunburn and skin dermatitis. Generally, a hybrid dog can be a candidate for issues that affect either breed that it is made up of. This does not mean they will ever experience one of these health problems, only that they are more prone to getting them.
In fact, mixed breed dogs tend to be more resilient to diseases than purebred dogs. Though it is not possible to predict how long your dog will live or how healthy it will be during its lifetime, it is a good idea to be aware of possible complications that are more common for your breed, should they come up.
Typical West Highland White Terrier Health Issues
Keratoconjunctivitis Sicca- Dry eye syndrome
Copper Toxicosis- Disorder that causes copper accumulation which eventually results in liver disease.
Cataract
Craniomandibular Osteopathy– Enlarged jaw bone condition in dogs that causes pain when opening and closing its mouth.
Globoid Cell Leukodystrophy– Very rare but always fatal disease caused by mutated DNA. Dogs stop growing normally and pass away young due to nerve damage.
Skin Disease
Typical Bichon Frise Health Issues
Hyperadrenocorticism– Also known as Cushing's disease affects middle-aged to older dogs. It is when an excessive amount of cortisol is produced.
Allergies
Canine Hip Dysplasia
Liver Disease
Health Issues Common to Both Breeds
Patellar Luxation- Dislocation of the kneecap
Legg-Perthes Disease- Degeneration at the head of the femur bone
Activity Level to Expect With This Mixed Breed
The Wee-Chon needs to stay active in order to remain at a healthy weight. Twenty to thirty minutes of daily activity is recommended. However, since this breed is so small, it is not a difficult need to meet as indoor play can get in that needed exercise just do not neglect their love for running about outdoors as well.
Keeping your Wee-Chon active and showering him with attention will also alleviate boredom which often leads to destructive behavior like chewing. Indoors, give him a variety of toys to play with to keep him entertained. They are very inquisitive and like to be involved in any activity you are participating in.
Grooming Your Wee-Chon
Due to the long coat of this breed, grooming every other day is recommended to keep tangles that can lead to matting at bay. Keep a pin brush and slicker in your grooming arsenal to give your pup a quick brush down especially before bathing where tangles can get worse. Though most Wee-Chons are hypoallergenic and shed very little, daily brushing will take care of any loose fur before it gets into your home.
For most Wee-Chons, a trip to the groomer is in order for a trim especially to take care of the long hair around his eyes, ears, and paws. While there, nail trimming can be taken care of as well.
Regular teeth brushing are recommended to avoid this breed's typical dental issues. Ears should also be cleaned and checked once a week. Since this breed is white in color, a tear stain removal product is a handy product to have around.
Trainability of This Breed
Since Wee-Chons are so clever, they are quickly and easily trained. Be firm, constant, and patient while training and your dog will reciprocate with obedience because he just wants to make you happy. Training that is engaging and uses positive reinforcement in the form of treats and hugs works best.
Conclusion
If you want a hearty dog that is active and has an overabundant amount of love and wet kisses to pass around, the Wee-Chon is a great candidate. With its bright curious eyes and teddy bear cuteness, you will instantly fall in love.
As with any dog, they have their own set of needs. After careful consideration, you can see if this breed is a match for you and your family.
If you are curious about this breed and have any further questions or helpful comments for other readers, feel free to leave a comment below.