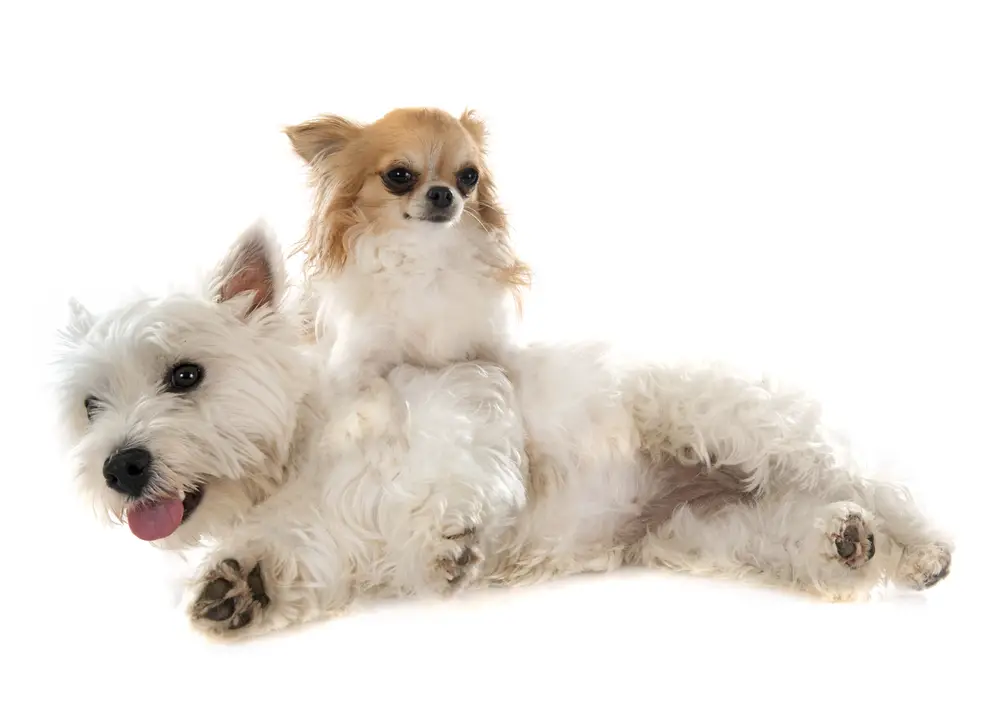 Who doesn't want a dog that looks like a toy and can easily be carried around the way Paris Hilton does? Well, here is a dog that is cute, playful and adorable to own.
The Chestie, a recently developed designer breed, is gaining popularity due to its brilliant personality and attractive outlook.
A mix of a Chihuahua and the West Highland White Terrier, this is the dog you need to watch out for.
Chestie Origin
The Chestie is a very recently developed designer dog, and its origin cannot be traced. Maybe it was bred simply out of curiosity, or somebody had an intention to make a breed with the best of both the purebreds.
Whatever may be the intention, we can know more about this breed by taking inferences of its parents, that is, the Chihuahua and the West Highland White Terrier.
The Chihuahua is known to have come from its ancestors, the Techichi, which were a larger and heavier breed in Mexico.
Around the 12th century, the Aztecs took an interest in refining the Techichi into a smaller and lighter dog.
These dogs were considered to be spiritual animals and were buried along with their owners after they passed away.
After the fall of the Aztec civilization, these dogs lived in remote villages and managed to survive until the time Americans took an interest in the breed around the 1800s.
They found many specimens of the dog in the State of Chihuahua and hence the name.
The first Chihuahua to be registered by the American Kennel Club in 1908 was named, Beppie.
The West Highland White Terrier, on the other hand, has its lineage dating back to the 1600s century when King James I ordered for some "earth dogs" from Argyllshire.
These Scottish dogs were actually bred for attacking vermin and for hunting purposes by farmers and nobles in Scotland.
The white color of the terriers can be attributed to Colonel Malcolm, who decided to only breed white terriers after he accidentally shot down his reddish brown colored terrier while hunting.
These terriers were known as Poltalloch terriers or Roseneath Terriers.
They were bred for hundreds of years before they made an appearance at dog shows.
It first appeared in 1896 at a Scottish dog show and was named as West Highland White Terrier based on the northwestern Scotland where the breed was famous.
Physical Characteristics of the Westie Chihuahua Mix
The Chestie have very attractive and distinct physical characteristics from both its parents.
It has the apple shaped face from the Chihuahua, along with the medium length fur and button nose from the Terrier.
They also have a short muzzle like the Terrier and have erect pointy ears like the Chihuahua, or they may sometimes flop down.
They have dark brown eyes and the eyes bulges out a little just like the Chihuahua. Their tail may sometimes be upright or may hang down.
Chesties are tiny sized dogs like a toy, and their legs are short and can be stocky like the Terrier.
Some of the important physical characteristics of the Terrier are:
Height: Males 8-10 inches; Females 8-10 inches
Weight: Males 5-10 lbs; Females 5-10 lbs
Eye Color: Brown
Nose Color: Black
Coat Color: Can have a wide range of colors. Few of them are- white, fawn, cream, brown, white, and black.
Coat Length: Ranges from medium to a little long
Coat Density: Chesties don't have a dense coat and are normal in terms of density.
Coat Texture: Wiry coat, but smooth and soft.
Chestie Temperament and Personality Traits
The Chestie is a loyal and playful dog, but clever and intelligent at the same time. They love to always be with their owners wherever they go.
Chesties love when there are people around, and they like being the center of attraction everywhere.
They are great family dogs and can adjust very well in any set of environment.
They are warm and lovable and can even shy away in front of strangers. This is a characteristic of its parent, the Chihuahua.
Chesties are also friendly with kids and other people except for stranger dogs or animals.
Some of the distinctive personality traits of a Chestie are:
Sensitive
Chesties are generally very sensitive in nature. They tend to be easily affected by certain situations around them.
They don't do well when left alone. Most Chesties suffer from separation anxiety if they are kept alone for long hours.
So, if you are a person with busy work schedules, it won't be a good idea to own a Chestie.
Demanding and Clingy
Chesties has a demanding nature towards their owners. They like being pampered and will be super clingy with their owners.
It is important that you give them the attention when they want; otherwise, you make end up making him sad.
Intelligent and Confident
The Chesties get these traits from their parents. Since Terriers are intelligent dogs with a keen sense of curiosity and Chihuahua's are smart and confident dogs, you have the best of both in Chesties.
They are usually independent and have a mind of their own.
Friendly
Chesties tend to be friendly in nature, and they work well even with kids around.
However, you should closely watch them play since a Chestie may just bark or nip at the kid if the kid annoys him.
Health and Conditions to Watch For
With a lifespan of 10-13 years, the Chesties are comparatively healthy dogs. Since they are a new breed, not much information or cases on their health conditions are reported.
But, chances are always there of the Chesties being prone to certain genetic diseases passed down from their parents.
Chihuahuas are prone to various diseases that affect small dogs. Diseases such as luxating patella, hypoglycemia, tracheal collapse, and dental problems are commonly seen in this breed.
The West Highland White Terrier, on the other hand, is prone to genetic diseases such as the "lions jaw" which is mostly seen in young puppies.
Eye infections, along with skin allergies, are also commonly seen in this breed.
However, it is not a guarantee that Chesties will suffer from all these problems. With routine health checkups, you can prolong the life of your Chestie.
Chesties are also prone to dental infections. Make sure you brush him twice in a week at least in order to keep his gym healthy.
It is recommended to do a thorough physical examination, along with skin tests, blood count, eye tests, and other important tests as soon as you bring your pet home.
Chesties are active dogs and requires regular exercise.
Though they may not need as much exercise as other dogs, they should be taken for a few minutes of walk daily. This will keep them healthy and check their weight-gain.
Since their coat is not very thick or long, they don't require regular grooming like the other Westie mixes. You can brush their coat once or twice in a week and shampoo him well.
It is advised to not shampoo too much since it may dry out their skin. Use a mild shampoo or a shampoo recommended by the vet.
Their nails need to be regularly checked and trimmed properly before it becomes too long.
Chestie Diet and Nutrition
As with any other dog, the Chesties should be fed highly nutritious, and a protein filled diet.
Since Chesties are active animals, they need high-calorie content and high protein content food to fulfill their daily energy needs.
A balanced diet with the correct proportion of fiber, protein, and carbohydrates should be given to the dog.
A high-quality food appropriate to the age, weight, and size of the dog should be given.
A diet containing too much fat content should be avoided as it may cause various heart diseases in the Chestie.
Giving small portions of dry food to your Chestie is also a good option. But, it is always recommended to give homemade food.
Commercial foods may have ingredients which may not be suitable for your Chestie's digestive system. Foods that contain by-products such as soy and corn should be avoided totally.
Chesties also have a tendency to gain weight and become obese. Hence, proper care should be taken while choosing a food product for him.
Reduce the amount of fat content in the food and give only high-quality protein based foods.
Since they are small breed dogs, make sure that you don't overfeed the dog. It is recommended to give 2-3 meals in a day with equally spaced time intervals.
Food products that contain wheat should be avoided in order to save your Chestie from skin allergies or other issues.
Protein from whole meats like beef, lamb, and turkey should be regularly given, along with fish.
Read the ingredients of any commercial foods you buy before giving it to your Chestie.
Pros and Cons of the Westie Chihuahua Mix
Pros
Small toy dog that you can carry in a handbag if you wanted.
Great for keeping in small apartments.
Does not need a lot of exercise like other dogs
Comfortable living in any environment as long as the owner is present
Intelligent and fun-loving in nature
Plays comfortably with kids
Cons
Quite vocal and tends to bark aggressively at strangers
Usually suffers from separation anxiety
Cannot be left alone in the house for long hours
Tends to become very possessive about his owner
3 Common Questions About the Chestie
1. How does the Chestie behave with kids and other animals?
Chesties are generally very friendly dogs. They can easily play with their children.
However, when it comes to small kids, care should be taken since small kids may touch and play with him roughly.
In such a case, the Chestie may just nip the kid suddenly since they don't take any shit from anybody.
Chesties are quite vocal, and they usually tend to bark when they see other dogs or animals. It may be due to fear or intimidation because of their small size.
It is highly recommended to let you Chestie socialize at an early age to avoid problems in the future.
2. How difficult is it to maintain a Chestie?
Chesties do not require much maintenance, and they are a good beginner dog for those who have no experience owning a dog.
The coat is medium length and not very thick; hence, they can be brushed once or twice a week.
Chesties also do not require regular exercise like other dogs. You can take him for a short walk a few days a week.
However, it should be noted that they are prone to obesity, and any sign of weight gain should be given more attention.
3. How long does it take to train a Chestie?
While Chesties are intelligent dogs and can quickly learn new tricks, they also have their mood swings.
Sometimes, Chesties can be hard to train. It will require a certain level of patience and expertise to train a Chestie.
Otherwise, Chesties are quick learners and can grasp things very fast. You can train faster with plenty of treats for him.
You can use the help of professional trainers if you are having a hard time training your Chestie.
Final Thoughts
The Chestie is a great choice for those looking for pocket-sized dogs with a playful and adorable temperament. They are also very loyal and loving companions who will love you with all their heart.
If you are someone who loves to be with their dogs 24/7, then this is the perfect dog for you. Chesties cannot live far away from their owners for long.
Chesties are being adored and loved worldwide due to their cute size and distinct character.