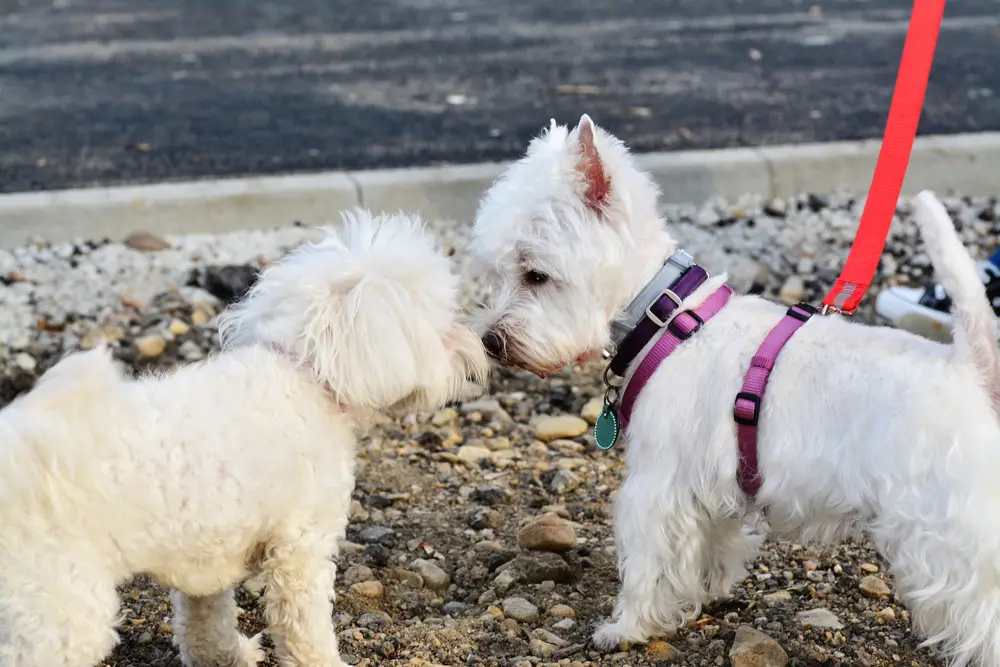 Okay, let me start on a very psychological tone here. The West Highland White Terriers (a.k.a Westies) are what you might call the pet with the 'terrier' instincts and temperament in every fiber of its being.
They are stubborn, demanding, feisty, sturdy and a strong instinct of chasing other animals.
But we LOVE them anyways. That's probably why you and I are here on the same page.
Regardless of their physical energetic traits, there's so much an owner can do to train and make them the most loveable and purposeful pet.
So, it's a no-brainer that finding the right harness for your pup is the first thing towards the goal.
Here we have strategized and zeroed into specific points to help you find the right harness for your Westies.
Why a Harness Instead of a Collar?
This option is one of the best choices if you are someone who is not a pro on dog training but would love to anyways train the pup yourself. You see, with a harness you would have complete control over your pup's training rather than the pup giving you all that energy-draining running exercises when on a collar.
It becomes tiring and discouraging after a while, trust me. And you cannot possibly be without taking them out for a walk because they are creatures who want their walking and exercises.
That is why unless he/she is properly trained, a harness is a way to go, in my opinion.
Advantages of Using a Harness
Below are some points to consider for a harness:
The better training device for puppies. Compared to a collar, harnesses also have the advantage of preventing Westies from getting entangled in the leash which could hurt them in the training process.
With small puppies like Westies, a harness that covers a larger part of their body helps to disperse equally the strain on the chest and the back. With a collar, the situation is quite the opposite, it puts much strain on the neck when they pull and tug.
In the case of a larger dog, harness gives much better and easier control over your back and arms.
Your pup keeps pulling and tugging on a leash as it allows them to move around with much freedom than a harness which discourages them from doing so.
How to Choose the Right Harness for Westies
Alright, first off you need to have a basic knowledge about your pup's size. Selecting a wrong sized harness for your Westie can be painful and harmful for them.
So, a Westie generally is classified as a small dog. Females tend to grow between 9-11 inches tall and weigh around 15 lbs. While the male Westie size range between 10-12 inches and weighs around 20 lbs or more.
You will need to know the exact chest measurements of your Westie before buying a harness since this will provide you with the correct size that you will need for them.
And also, not to forget that you will need to keep buying a new one once they start to grow or otherwise get a harness that is adjustable to different sizes.
However, every harness size differs according to your pup's size, so if you follow the above mentioned, finding the right harness size should not be that difficult.
What are the Different Types of Harnesses Available?
Right now, there are three types of harnesses you can buy:
The back-clip harnesses, which has the leash clip on the back. This type is a harness that your pup may get used to easily.
The Front-clip harnesses give more control than the back-clip. If your Westie is a strong puller then this type helps to redirect their attention and discourages from further pulling.
The Tightening harnesses, which are designed for more of the determined pullers by giving a tightening when they pull. Although, watch out on whether it gets too uncomfortable for your Westie with this type of harness as they can give a negative influence to their surroundings and others around due to their comfortableness.
What to Look For When Buying a Dog Harness for Your Westie
Here's four major things to look for when buying a harness:
Whether the harness has the right type of material that is going to be both comfortable and yet strong enough to keep the energetic Westies in control.
Fabrics that don't rub off the skin and cause irritation and sores.
Attachment points in the leash that is convenient for both the owner and the pup. Also, its design compatibility to avoid any pinching on your Westies thin skin.
Safety features like double security wrappings, number of attachments for leash and size adjustments, type of metal buckles and Velcro's, id and tag pockets, length of the leash, and reflective bands. Through the article, you will even see the reviewed products taking safety and conveniences to a notch by their attention to colors too.
Top 4 Picks for the Best Harness for Westies
1. Voyager Step-In Air Dog Harness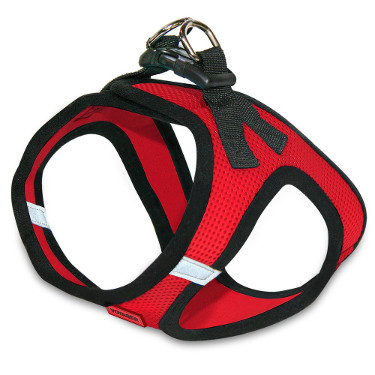 Good Things About This Harness
All-day and weather wear with material that does not irritate.
Maximum durability and security for your dog.
Wide range of sizes available
Bad Things About This Harness
Can be bulky at the clip location
Sizing can be tricky if your dog's size isn't typical
This harness from the Voyager is gold for its all-weather mesh design. It perfectly fits for a Westie who loves their walks and exercises like literally daily. The mesh design comes with the technology for both breathability during the summers and insulation for the winter seasons. So, you might not have to worry at all about how the weather looks outside to take your pup for a walk.
Another great thing about this product is that it comes with a strong Velcro closure and a plastic buckle with a well-made metal D-rings that locks the harness in place around your Westie. The leash is fastened through the D-rings that are held together, which all the more ensures the security of the harness on your pup.
The durability of the Voyager step-in air dog harness is another advantage point that cannot be looked over. With all the multiple walks and playtimes, it is important as an owner to see that the material is durable and yet comfortable on a long-term basis. And, this product has been truly loyal to all the pet lovers out there who wish to only give the best to their little furballs.
The reflective bands on the sides of the harness are another superb feature that might be of help with your pet's visibility, especially for Westies that tend to wander off more than often.
Voyager's harness sizes are also adjustable for small to medium-sized dogs. So, it might be the perfect choice for all the Westie owners whose pup grows to the full within the adjustability size of the harness.
To top it all off, Voyager step-in air dog harnesses are true to its perfect-fitting size acclamation. They are suitably comfortable as the buckle with the metal rings is on the back rather than towards the belly, which allows for the pups to go in smoothly and quickly.
With the sturdy Velcro feature, you might never have to worry about your pup slipping out anytime. And, the comfortable material that will fit perfectly makes it all easier for your Westies to go along with you for long hikes and treks, which be sure to know is what all Westies love doing.
2. Ruffwear Front Range No Pull Dog Harness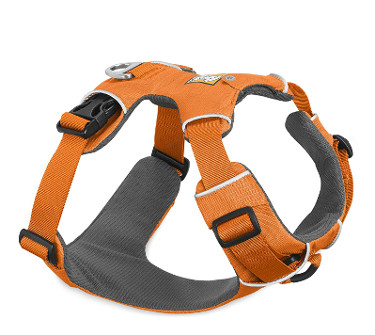 Good Things About This Harness
Perfect for all-day outdoor activities.
Easily washable with hand washing and air drying.
Convenient leash attachment points with customization of size adjustments.
Bad Things About This Harness
It may take a while to get the hang of fitting both the back and front adjustments for a perfect fit.
These harnesses by Ruffwear are durable, light-wear and are specifically designed for all-day outdoor activity.
They come with reinforced webbing at the chest level that controls your Westie's pulling and might be an ideal harness for training your new untrained Westie pup.
Their V-ring buckle is centered on the back and is made of aluminum which maintains the aesthetic form of the metal even in wet weather conditions.
The nice touch of Ruffwear harnesses comes with padded foam strips that wrap around the chest and the belly which not only provides equal distribution of the pressure across the body but also ensures comfort and easiness when walking, resting or running. Might be a stronger option for owners that tends to take out their Westies for rather longer hikes in uphills.
And, if you should be a fan of customization, well Ruffwear got that covered for you. It comes with 4 convenient customizable fit that helps your Westie for a full range of motion. You will also see the safe storage that can be used to keep safely your Westie's tag, in any case, which goodness forbids, should you lose your pup.
The choice of the harnesses color is a great scheme with a reflective trim that is so easy to spot your pup from afar at any time of the day, whether it be night or day. I guess, no one has to continuously yell out their names for longer periods.
So, all in all, the new Front Range series of Ruffwear has been incredible when it comes to a quick dress-up. You can like get them ready in just two clicks, unlike other ones that have too many a connection to fix. The safety storage to keep tags is deep enough for your Westie's entire information like their recent shots, owner address and information, and who they are.
It's thoughtful when a product has kept even these small details to a great caution. The black plastic piece that is on the hook of the metal leash acts like a buffer rather than just the metal being in contact with the material bonding it together. Colors of the harnesses in Ruffwear's new Front Range are perfect for easy spots. In all, you might be surprised when your Westie stops pulling and tagging constantly.
3. Pupteck Soft Mesh Dog Harness with Leash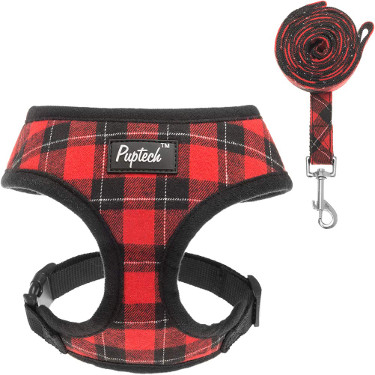 Good Things About This Harness
Easily washable and maintainable.
Soft material for comfort yet strong enough to keep in control.
Not very expensive.
Bad Things About This Harness
Not very adjustable on the yoke of the harness.
Okay, this harness for your Westie from Pupteck color and design is very aesthetic. I mean, who doesn't love red tartan. Talk about royalty!
The material of this harness is made with a 100% Polyester that has a breathable mesh design inside which rests right next to the skin and is so soft to make it comfortable. The belt on the chest area is adjustable with a buckle that is stable and provides double security. But don't get worried whether you would be able to control your feisty one due to its soft fabric as it is also strong enough to tug your Westie if and when they get a little too excited.
However, you might find that the yoke of the harness not quite adjustable but the strap that goes around the body is adjustable. For a small pup like Westies, I think the leash, which also comes with a red tartan plaid design, is right on point.
The one good thing I found in this harness is that it is quite substantial unlike some stiff ones in the market. The various size options that start from an extra small is advantageous for a small one like Westies. You can bet that your Westie is going to look quite the smashing cutie one with the Pupteck plaided design harness around it.
4. Rabbitgoo No Pull Adjustable Dog Harness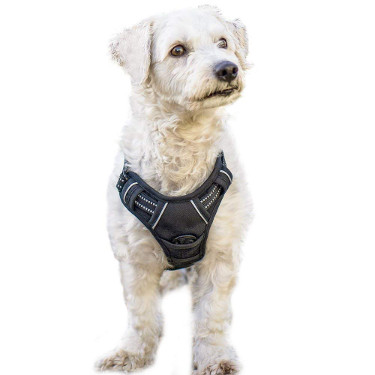 Good Things About This Harness
Helpful No-pull feature for untrained Westies.
Front leash adjustments that help Westies learn quick.
Washable and more comfortable design.
Bad Things About This Harness
Reflective bands may obscure with adjustments for some smaller dogs.
Rabbitgoo dog harness that is a no-pull and adjustable is one of the many options that can be considered for owners with small pups like a Westie or others. The sizes that are offered in this range of products are maybe just what you might need to help you with training your Westie how to walk and behave properly.
Not just that but of course it will also make your little one stand out with their blend of classic design that is both purposeful and tactical. The usual small-sized harness comes with 13-24″ chest girths and with a 13-19″ neck girths.
Their two attachment points with metal leash rings are featured to serve to walk without pulling through the chest attachment clip and the back attachment for hiking, jogging or for casual walks across your street.
A specific design that may be quite impressive for owners is the product detail of attention to fixing the perfect adjustable straps that can be made to fit your Westie properly with additional room for their growth later. You might not have to worry about your pup slipping out or choking though.
The harness is made with durable material of Nylon Oxford and is also padded with soft cushions to give that extra comfort for your Westie's skin.
Their super reflective strips might help owners that are keen on providing the exercise lover Westies for exercises in the daytime and sublime walks in the late evenings.
Many might be a bit skeptical of whether the leash attachments in the harness could be beneficial at first but the no-pull feature of Rabbitgoo does play a crucial role to ensure that the owners who might be having an untrained Westie really can prevent and control the constant pulling of the Westies. Just by tying the leash to the front around the chest, you might see a difference in their instincts to pull.
It might need for the owner to make it adjusted to their Westie, but once that is passed, I am sure that you as the owner might also see the change in their behavior to pull from then onwards.
Our Top Pick
So finally, on an end note, I have to honestly say that my Favorite of all harnesses is the Voyager Step-in Air Dog Harness. It's got everything that a Westie owner would look out for.
Their everyday activity at any time of the season design of the harness fabric makes it the better choice for me personally to take out my Westie on all its favorite activities without really having to worry about a thing of the weather outside. The double security feature which is both comfortable for the Westies and practical for the owners is like a cherry on the top.
Yes, I know that this is a mundane detail to look out for any harness products but with their innovative placement of the attachment points is something that cannot be gone without an appreciation by a true and proud Westie owner.
Like I said in my above Buyers guide, where all is explained on what to know and understand before buying a harness, one can see that Voyager's Step-In Air harness fits well into everything that is to be needed. As an owner, you need the material that your Westie would also love and the security attachments that do not prevent your Westie from having their bit of fun too.
It is very important that when you take your Westie for a daily dose of their exercise routine, you needn't necessarily deprive them of their joy just because you want to protect it from harm's way at any cost or to give them the best training.